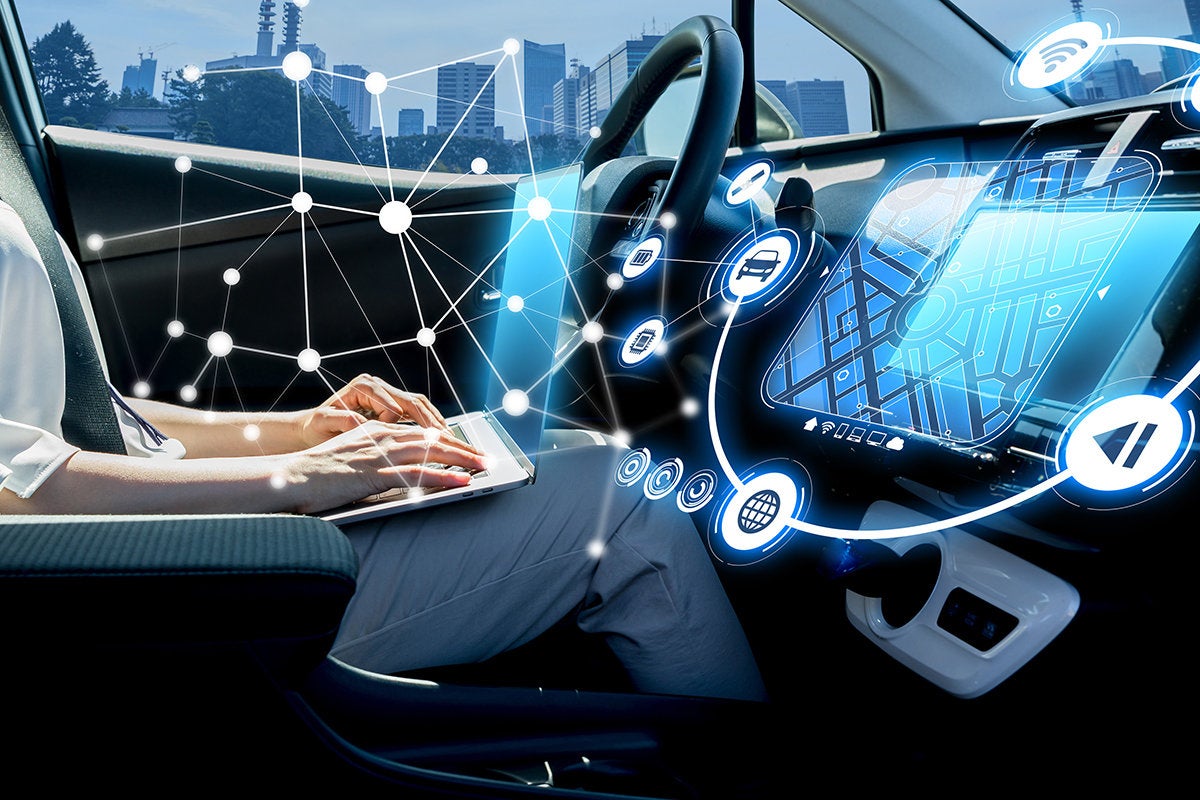 By Baranski Sarah, Pino Maillet Anais, Serrure Laura, Werlé Paul
Google, Apple, PSA, Tesla, Audi and others car brands are all going into the race of Autonomous vehicles for years now. However, if we take a closer look, this subject had never made the headlines! Warnings, issues, Big Data & AI… what may lie under the controversial subjects that make autonomous vehicles so complex?
Who hasn't dreamt of watching a movie or reading a book while driving? With the autonomous car this dream might come true!
Autonomous vehicles are designed to make traffic easier
Autonomous cars are vehicles capable of sensing their environment and navigating without human input. The first autonomous car appeared in the 80's with some tests made by Mercedes Benz. 40 years later, when asked about the future of autonomous cars, the answer is quite obvious for some people."Autonomous cars should not be an alternative, but a necessity. When cruise control first appeared, people were afraid. If today we have to buy a car without cruise control, it doesn't make sense to us. It's the same thing we are living today with the autonomous car. These capabilities are practical, useful, and will become necessary in the future", said Tony Verschueren, Business Advisor at Tesla
In the current market Mr. Verschueren explains that not a single brand is selling a 100% autonomous car. Why? It mainly has to do with regulations. In the field of autonomous cars, 5 levels of driving automation exist, and currently Tesla has reached the second one. Autonomous cars are more an option than anything else in the present day, and this option is charged 6.300€ in Tesla products.
"A 100% autonomous driving car could already come into being, if regulations allow it. It is really possible!".


Tony Verschueren
In fact, autonomous vehicle designers try their best to develop a car as safe as possible.
◉Safety at the core of the construction!
Proofs are given by Google with only 13 minor incidents out of 1,8 million miles travelled by its autonomous vehicles. According to Robert Hartwig, President of the Insurance Information Institute, there are 80% less traffic incidents thanks to autonomous cars.
For John P. McDuffie, professor of Management in Wharton University of Pennsylvania, deaths from vehicle accidents consistently dropped from post-war period to 2015. One of the reasons why they start increasing again is distracted driving
◉The car needs multiple factors to work correctly
Autonomous vehicles do not necessarily need to be connected to work, but they are more efficient if they can connect themselves with other road users, infrastructure networks and communication operators, in order to get more info. The more the autonomous cars drive, the more information they get thanks to the experience acquired. Nonetheless, their autonomy is limited. Indeed, these cars must remain in the previously established cartography range mapped by their designers. Otherwise, on unknown roads they do not know how to react.
Cars should be tested in real-life situations and not only on flat, nice, wide roads, according to Mr. McDuffie.
◉Maybe not 100% autonomous but 100% High Tech!
We should highlight that these autonomous vehicles work only thanks to many tools. Sensors for instance are required for the car, but that is far from being it: Radars, Lidars (Light Detection and Ranging), Cameras, Ultrasound sensors and On-board computers must be included to have a potential autonomous car.
However, to link these high-tech materials one to another, data is essential for the creation of autonomous vehicles. Therefore, Tesla collects a lot of data about their clients. They collect more data in 1 day than what Google has collected since the launch of its autonomous vehicles in 2009. However, we realized in our survey that more than 80% of respondents are reluctant to buy those cars especially because of data collection. In that field Tesla isn't the only one. Nowadays, Google prototype broadcasts 1Go of info every second! Big data is definitely linked to autonomous cars.
To reassure people from this massive data-collection vision, we must highlight that: "Regulated in Europe, data collection is subject to the authorisation of the driver. We disable this by default, but if a user wishes to share the experiences that the autopilot and autonomous driving of the vehicle is able to store, we will be able to share this data for all vehicles so that they can become even safer", said Mr. Verschueren.
Nevertheless, it remains some darkness about these collections of data, what could feed some fears.

Some shortcomings raise ethical issues. Will these cars really protect the life of the users?
◉Issues of different radars and incidents
Autonomous vehicles are supposed to lower the number of road incidents. In fact, human errors account for most of the driving incidents. However, many people want to keep control. Indeed, 65% of respondents to our survey gave grades lower than 4 out of 7 when asked how they would trust a 100% autonomous vehicle. These figures even became lower when we asked them about their trust on the car's capability to save their life in case of emergency. 73% of people don't trust it. It results on almost all the respondents wanting to be able to take the control of the car in case of emergency. It shows that there is still a long way to go for humans trusting machines. Paradoxically, around the half of them think autonomous cars could help reducing the numbers of road incidents.
Moreover, it seems that radars have difficulties to clearly identify a shape, lidars can be blinded by reflections, cameras by fog, exposure, or at night. Technology does not seem to be fully ready…
In 2018, 2 people died from driverless trips of Tesla and Uber. On the first case, sensors failed to see a bicycle and the driver was distracted, and on the other case, the car failed to clearly see the road due to a missing line.
◉The car may be hacked
In addition to physical incidents, there are also trouble related to the hacking of data. Indeed, in 2015, two hackers showed that they could take control from miles away of a Fiat Chrysler car using its Uconnect software. The driver was not able to control anything, from the radio to the brakes.
However, according to Mr. Verschueren: "Tesla has created its own TeslaOS operating system and hacks it every year to increase the security of their vehicles but none of the hacking attempts has yet managed to hack into the autonomous driving systems". It shows how serious autonomous car developers take this hacking threat into account.

Laws and regulators try to respond to this concern
◉ Who should be protected? Who is the one to blame?
For Tesla the question is a nonsense. An autonomous car will not be prepared to incident situations as they are not supposed to cause them. This assumption is reinforced by Jean-Gabriel Ganascia, specialized in AI. For him, autonomous car will limit incidents, not create them.
However, when it comes to the question "who should be protected?", there is a controversial subject.
MIT's ethical study about autonomous cars shows different tendencies according to countries. 3 groups exist: Countries from South, East and West. For example, countries from South including France, would rather save young people rather than old people contrary to countries from East. These differences are explained by economic and cultural factors. The dilemma above is to know whether to save a pedestrian or the passenger of the car in case of danger. Indeed, given the situation, one of them should be killed to save the other. This dilemma is at the earth of the ethical issues since the beginning of autonomous vehicles. To better have an idea over this dilemma, we asked a similar question in our survey. For only 30% of the respondents the car should save in priority the passengers over the pedestrians. The remaining 70% would rather want the car to save the pedestrians to the displeasure of the passengers.
◉Global issues of autonomous car regarding the law
To pursue the question of the ethical dilemma raised by autonomous cars, we interviewed a jurist and professor of law at Grenoble School of Management, Mr Emmanuel Auvergne.
When we asked him at first "Are you in favour of such a project, given the ethical issues it may raise?" his answer was "I'm not in favour of the traffic as it is. This traffic would mix autonomous cars and cars driven by people who don't necessarily respect the rules of the road. How to combine vehicles that will follow certain parameters while other vehicles will be randomly driven by people?". He added that obviously since the activity is new, some adjustments are necessary.
Indeed, France, Germany and the USA allow more and more the existence of autonomous cars, through new regulations, but currently it is for experimental purposes. Moreover, the contract between a dealership of autonomous car and a driver does not have to be the same as a simple sales contract. The dealership has to prove that the driver is well informed on behavioral characteristics of his vehicle and its programming as well as a proof of the driver's consent.
◉ Big data and law regulation
At first Big Data represents the capture and exploitation of massive amounts of data with an algorithm. For autonomous vehicles, data that would be collected would include passengers' identity, details on departure and arrival point, date and time of the trip, speed, payment means, in addition to the record of audio and video data outside and inside the vehicle to prevent incident risk. Thus, it raises tremendous conflict of interests between constructors who want to keep a hand on data and other actors who want an access to sell drivers new services. The complexity is between the car constructor, who needs the data access to prevent risk and ensure safety, and insurance companies for instance which want these data to suggest new services and overall to know better about their clients.
If few are the ones that think autonomous vehicles would not make their trips way easier in our survey, only 58.9% of the respondents would actually buy an autonomous vehicle. For the remaining ones, the main cause is the excessive use of data. Indeed, in addition to insurance companies, data could also be tracked by advertisers that will be able to broadcast their ads directly on the dashboard of the car.
For that matter, when we asked E.Auvergne if it would be possible to sue the car manufacturer for this inappropriate use of data he answered "In my opinion, yes, but these are existing rules which, under certain conditions, prohibit the use of personal data". Digging deeper into the subject, in Europe, the notion of "security by default" becomes a new fundamental pillar of private data protection. Therefore, cybersecurity represents a challenge for companies. To protect people from this cyber-hacking, in 2016 two bills proposed by senators in Michigan,US made autonomous car hacking punishable by life imprisonment.

We thus see how controversial the subject of autonomous vehicles is. From the construction to the self-driving, several obstacles exist which prevent from a fully 100% autonomous vehicle to exist yet. Besides, the main dilemmas remain the use of data as well as security and trust between the customers and those cars. In a world in constant change with a progressive use of data in our everyday-life tools, shouldn't we get used to it? Information gathering is now present in all technologies and websites, and Autonomous cars require huge collection of information about the individual.
"We have to know what we want! We want the Internet, TV, microwave but we want to consume less energy. It's not compatible. It's the same thing, if we want to drive an autonomous car (it's true that it allows us to do other things while we're commuting, like in the train), we have to accept the consequences."

Claims, Mr. Auvergne
The message is clear, you cannot have your cake and eat it too! Sacrifices and concessions will be required for these futurist cars.